Location: "Dālderi", Babītes nov., Babītes pag., Latvia
Judges:
Main judge: Ivars Vilks
Judges: J.Štrekkere, L. Spandega

APSVEICAM VISUS PĀRBAUDES DALĪBNIEKUS UN UZVARĒTAJUS! CONGRATULATIONS TO ALL THE PARTICIPANTS AND WINNERS!
Latvian Gundog club organized wildboard test was held on 03.04.2016. 19 dogs participated in total. All of dogs have shown very good work and we are truly glad for the results, for the fantastic day we spent together with our latvian and estonian participants. 3 dogs have received the II degree diploma and 9 dogs have received III degree diploma.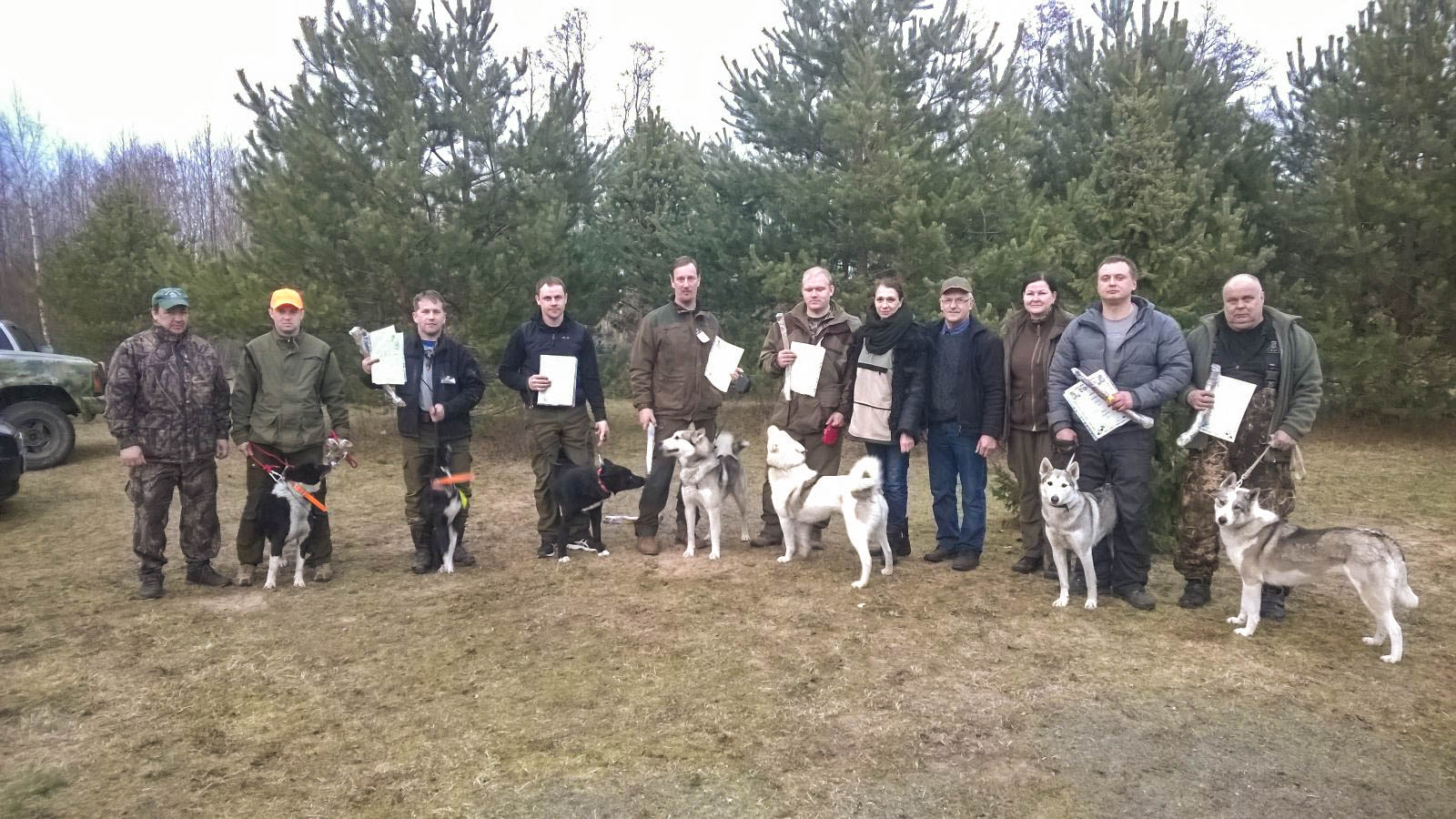 More photos:https://failiem.lv/u/ne4tz4tj
REZULTĀTI/ RESULTS:
1. Grupa / Group 1
1. Vācu medību terjers/ Deutsche Jagterrier BARRAKUDA IS ANTAGRADA īp. S. Zvirbule (LV) 83 p. II pakāpes diploms / II degree diploma
2. Vācu medību terjers Deutsche Jagterrier / BARA ZAUVAY īp. D. Sevčenkovs (LV) 72 p, III pakāpes diploms / III degree diploma
3. Vācu medību terjers/ Deutsche Jagterrier JUODASIS RITERIS BRITA own. R. Matlik (EE) 67p, III pakāpe
4. Vācu medību terjers / Deutsche Jagterrier TUBLION JT LEKSI own .A. Partel-Beljajev (EE), 60 points, III pakāpes diploms / III degree diploma
5. Vācu asspalvainais putnusuns / Deutscher Drahthaar.Vorstehhund ERLEN VENATOR VITRUS own. A. Lagenomm (EE), 48 points, bez diploma / without diploma
6. Vācu medību terjers/ Deutsche Jagterrier URIAS VOM KLOSTERFORST īp. B. Batalovs (LV) bez novērtējuma/ without mark
7. Asspalvainais standarta taksis / Dachshund Standart Wirehaired JALJEKUTT JASPER own. I. Siniaas& A. Noormaa (EE), bez novērtējuma / without mark
2. Grupa / Group 2 Laikas
1. Rietumsibīrijas laika / West Siberian Laika KEDRA own. A. Rak (EE), 93 points, II degree diploma
2. Krievu-Eiropas Laika / Russian-European Laika SEMI own. M. Seemann (EE), 88 points, II degree diploma
3. Rietumsibīrijas laika / West Siberian Laika KOTKAPESA KEDRACH own. R. Jarvmagi (EE), 83 points, III degree diploma
4. Rietumsibīrijas laika / West Siberian Laika ARUKUUSE MERRY own. O. Kuusk (EE), 73 points, III degree diploma
5. Krievu-Eiropas Laika / Russian-European METSAKUTSU URRI own. T. Kaljusalu (EE) , 71 points, III degree diploma
6. Krievu-Eiropas Laika / Russian-European METSAKUTSU URSUS own. T. Kaljusalu (EE), 65 points, III degree diploma
Rietumsibīrijas laika / West Siberian Laika KASEMETSA DEIRA own. R. Matrov (EE), 64 points, III degree diploma
Krievu-Eiropas Laika / Russian-European METSAKUTSU URSEL-CHYP own.T. Kaljusalu (EE), 62 points, without diploma
Krievu-Eiropas Laika / Russian-European METSAKUTSU ULAN own. M. Lootus (EE), 62 points, without diploma
Krievu-Eiropas Laika / Russian-European Laika METSAKUTSU BENNO own. E. Lindre , Estonia (EE), 61 points, III degree diploma
Rietumsibīrijas laika / West Siberian Laika KASEMETSA BURAN own. T. Vali (EE), bez novērtējuma/ without mark
Rietumsibīrijas laika / West Siberian Laika DIK own .A. Rak (EE), bez novērtējuma/without mark